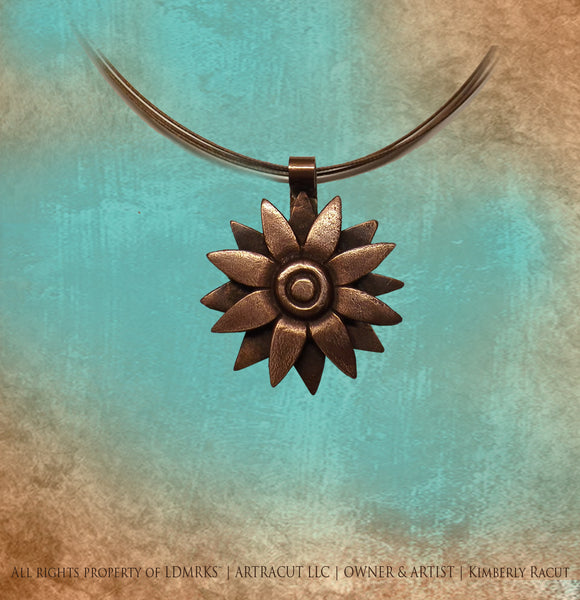 LDMRKS® McCrory Building Copper Pendant Necklace MBCN-II
This  LDMRKS® piece was inspired by The McCrory Building, built in 1922 and located on 2043 East 4th Street in Cleveland, Ohio. 
Handmade item
Material: Copper
Size: App. 1 ½" circle
**Each  LDMRKS® piece is handmade to order. Please allow 2 to 3 weeks for delivery. **
When ordering you can select from the following different necklace options for this pendant. All options come with a 2" extender chain and lobster clasp closure.
16" Genuine Natural Grey Leather Cord
16" Genuine Natural Black Leather Cord
16" Vegan Braided Cotton Bolo Cord - Coffee
16" Vegan Braided Cotton Bolo Cord - Black
16" Vegan Braided Cotton Bolo Cord - Sand
16" Bronze Jewelry Wire
---
Each  LDMRKS® piece is uniquely distressed and polished. Each bend, scratch, and imperfection purposely remains. No two are ever exactly the same and may vary slightly from product image. 
This  LDMRKS® piece is packaged in a stylish kraft paper sliding drawer box and comes with a photo and the history about the building that was its inspiration. 
All rights property of  LDMRKS® | ARTRACUT LLC | OWNER & ARTIST | Kimberly Racut
---
Fine silver option available special order.
The leather cord used in this  LDMRKS® piece uses dyes that are certified 100% Lead-Free and meet all requirements of the CPSIA (US) which require consumer goods to be free of Lead, AZO's and carcinogenic chemicals.