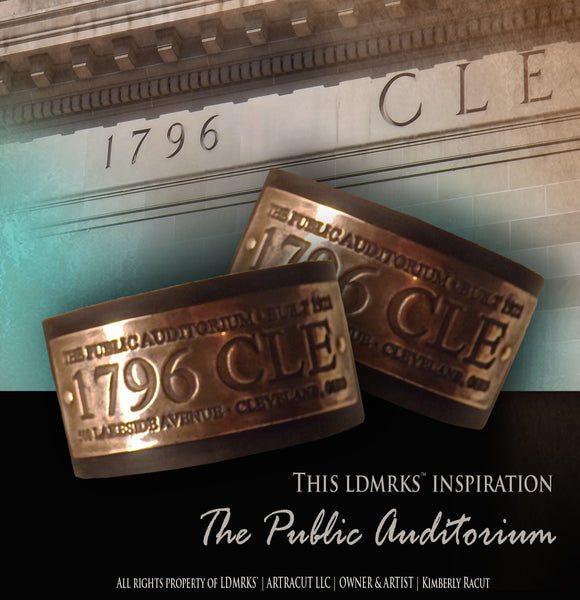 LDMRKS® Public Auditorium 1796 CLE Copper Leather Cuff Bracelet PAMLC-I
This LDMRKS® piece was inspired by The Public Auditorium, built in 1922 and located at 500 Lakeside Avenue in downtown Cleveland, Ohio. 
Handmade item
Material: Copper | Leather [Medium Brown]
Leather Cuff Size: 1 1/2" W | Length is made to order

Measure your wrist using a flexible measuring tape or strip of paper 
Email  for custom sizes not listed
**Each LDMRKS® piece is handmade to order. Please allow 2 to 3 weeks for delivery. **
---
Each LDMRKS® piece is uniquely distressed and polished. Each bend, scratch, and imperfection purposely remains. No two are ever exactly the same and may vary slightly from product image. 
This LDMRKS® piece is packaged in a stylish kraft paper sliding drawer box and comes with a photo and the history about the building that was its inspiration. 
All rights property of LDMRKS® | ARTRACUT LLC | OWNER & ARTIST | Kimberly Racut
---
Fine silver option available special order.