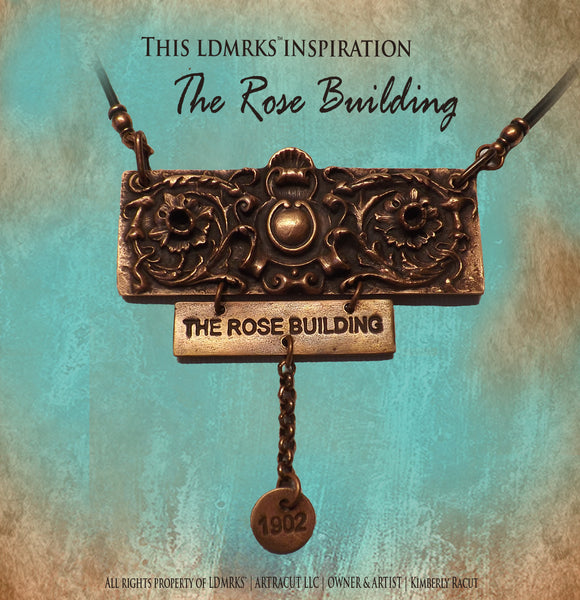 LDMRKS® The Rose Building Copper Pendant Necklace - RBCN
This LDMRKS® piece was inspired by The Rose Building. Built in 1902 and located on 2060 East 9th Street at the corner of Prospect Avenue and East 9th Street in Cleveland, Ohio. This handmade copper pendant is paired with the building and dangling date for a uniquely elegant and beautiful piece.
Handmade item
Material: Copper
Pendant(s) Size: App. 1" x 3"
**Each LDMRKS® piece is handmade to order. Please allow 3 to 4 weeks for delivery. **
When ordering you can select from three different necklace options for this pendant. All options come with a 2" copper extender chain and lobster clasp closure.
14" Genuine Natural Grey Leather Cord
14" Genuine Natural Black Leather Cord
14" Bronze Jewelry Wire [6]
---
Each LDMRKS® piece is uniquely distressed and polished. Each bend, scratch, and imperfection purposely remains. No two are ever exactly the same and may vary slightly from product image. 
This LDMRKS® piece is packaged in a stylish kraft paper sliding drawer box and comes with a photo and the history about the building that was its inspiration. 
All rights property of LDMRKS® | ARTRACUT LLC | OWNER & ARTIST | Kimberly Racut
 Also available in steel by special request.