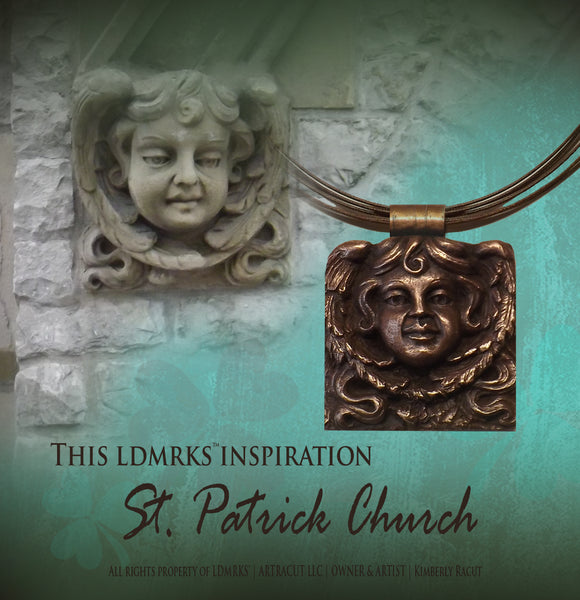 LDMRKS® St Patrick Church Copper Pendant Necklace SPCCPN-I
This LDMRKS® piece was inspired by St. Patrick Church, located on 3602 Bridge Avenue in Cleveland, Ohio. Construction began in 1871 and the church was consecrated on St. Patrick's Day in 1932. 
Handmade item
Material: Copper
Size: App. 1 1/4" x 1 1/4" Square
**Each LDMRKS® piece is handmade to order. Please allow 2 to 3 weeks for delivery. **
When ordering you can select from the following different necklace options for this pendant. All options come with a 2" extender chain and lobster clasp closure.
16" Genuine Natural Grey Leather Cord
16" Genuine Natural Black Leather Cord
16" Vegan Braided Cotton Bolo Cord - Coffee
16" Vegan Braided Cotton Bolo Cord - Black
16" Vegan Braided Cotton Bolo Cord - Sand
16" Bronze Jewelry Wire
---
Each LDMRKS® piece is uniquely distressed and polished. Each bend, scratch, and imperfection purposely remains. No two are ever exactly the same and may vary slightly from product image.
This LDMRKS® piece is packaged in a stylish kraft paper sliding drawer box and comes with a photo and the history about the building that was its inspiration. 
All rights property of LDMRKS® | ARTRACUT LLC | OWNER & ARTIST | Kimberly Racut
---
Fine silver and steel options available special order.
The leather cord used in this LDMRKS® piece uses dyes that are certified 100% Lead-Free and meet all requirements of the CPSIA (US) which require consumer goods to be free of Lead, AZO's and carcinogenic chemicals.